A Tribute to Our First President
Madge McDaniel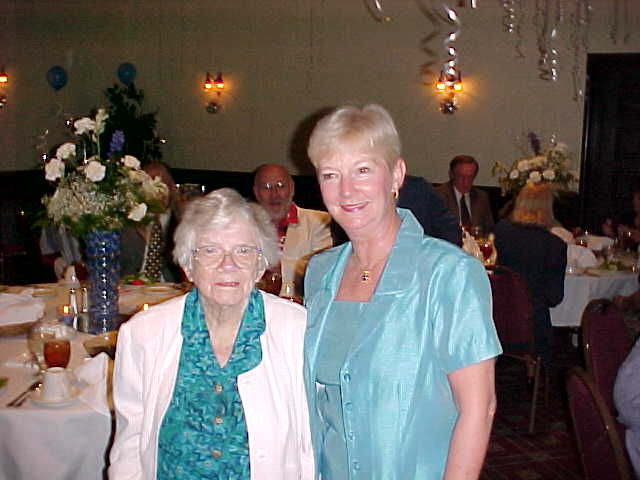 Madge and State Coordinator Joyce Morris
Madge passed from us on December 26, 2004.
She will be greatly missed by her WVRA family.

A Century of Leadership
Madge McDaniel, our dear friend, has lived through the most eventful century . She witnessed two World Wars, the Civil Right's movement, unprecedented economic growth, our advancement into a technological world , and tremendous changes in society. Now, at the beginning of a new millennium, we reflect on her life.
Born nearly a century ago, in 1904, she has lived her entire life in the Mountain State. In 1917, when the United States entered the first World War, Madge, a high school freshman, undertook her own patriotic duty by promoting the sale of war bonds. She was chosen as the female participant of her class to give a speech at a local theater. Nervous, and full of stage fright, she made her contribution to the "effort" through a five minute speech. Can't you see her giving that speech? So started Madge's life as a leader.
We honor Madge for her role in WVRA. In 1961, Madge's county superintendent went to summer school at the University of Pittsburgh. IRA was holding a meeting there and he slipped in on a session. He came back with IRA information and sent it out to the schools in a newsletter. Dues were $3.00. Madge, who was always interested in reading, saw the ad and joined.
Thus it all began.....convincing a central office administrator to help her start a local council, Madge sent out an announcement, and fifty teachers showed up for the organization meeting. In March, 1962, Madge became a Charter Member, and the first president of the Harrison County Reading Council. With Madge as president for two years, HCRC had various reading curriculum and instruction meetings and invited teachers from the surrounding counties. Her enthusiasm has always been contagious. By 1967, five local councils had been organized in WV and interest began building to start a state council. Madge and representatives from ten counties attended an informational meeting in Charleston. Madge volunteered to take care of publicity for an organizational meeting and sent out letters to county superintendents and every daily and weekly newspaper in the state. In a crowded elementary school cafeteria in Charleston, Madge McDaniel became a Charter Member and the first elected President of the WV State Reading Council, July, 1968. After 47 years of teaching, Madge retired two years after the WVSRC was chartered, but retirement only gave her more time to devote to her first loves, reading, WVRA and the HCRC.
Although WVRA would like to claim Madge as totally ours, many organizations in Harrison County and in the state could make as many claims to Madge's leadership. Nothing stops Madge, a nondriver. She has walked, ridden buses, trains and taxicabs all over the county and state for literacy, education, historical concerns, and other organizations such as Alpha Delta Kappa, WVEA, and WVPTA . However, WVRA is the only organization that can still claim Madge as a committee chairman. She still tries to attend every meeting and conference. Madge McDaniel is the epitome of the word "service."
I enjoy taking Madge to meetings, talking, and learning about her experiences and her life. Her mind is sharp and she remembers everything about WVRA's past forty-two years in detail. I consider myself and WVRA very fortunate.